Sexual Problems the Norm for Breast Cancer Survivors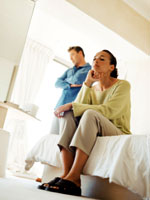 Getty Images
By Lynne Peeples
THURSDAY, September 22 (Health.com) — Many middle-aged women report sexual problems, including a loss of libido and a less-than-satisfying sex life. Now a new study suggests these problems are even more common among women who have had breast cancer.
In fact, 7 in 10 breast cancer survivors experience sexual problems in the two years after their diagnosis, according to the study, published this week in theJournal of Sexual Medicine.
Sexual problems after breast cancer treatment are "a hidden issue that women have a real reluctance to discuss," says Christine Derzko, MD, a professor of ob-gyn and endocrinology at the University of Toronto, who was not involved in the new research. "We have to empower women to have the confidence to ask about this. And we have to enlighten physicians to the fact that it is an issue."
These problems can be caused by cancer drugs that block the production of estrogen (most notably Arimidex and other aromatase inhibitors), treatment-triggered menopausal symptoms, or body-image issues related to mastectomy or other surgery, researchers say.
Breast cancer is the most common cancer among women in the U.S., with some 200,000 new cases diagnosed each year. Thanks to improved treatments, more women than ever are surviving breast cancer. That's good news, but it also means a growing population of survivors—2.4 million women in the U.S. alone—who are coping with the fallout from diagnosis and treatment.
In the study, researchers surveyed more than 1,000 Australian women under age 70. More than 80% of the women reported enjoying a satisfying sex life before battling breast cancer, but roughly two years after their diagnosis, 70% were having significant problems in the bedroom. (As the researchers point out, the women may have remembered their pre-diagnosis sex life as being better than it seemed at the time.)
By contrast, the rate of sexual problems (including low sex drive) among adult women in the population at large has been estimated at about 40% to 45%.
The findings did not surprise the researchers, who had been hearing complaints about sexual problems from their breast cancer patients. "Our impression from seeing women in the clinic was that women were experiencing a significant increase in sexual function problems following treatment," says the lead author of the study, Mary Panjari, PhD, a research fellow in the women's health program at Monash University in Melbourne, Australia.
Next page: Several factors may be to blame
Pages: 1 2