Mammogram Technology May Be Doing More Harm than Good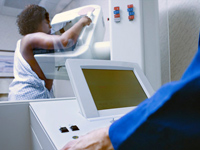 Getty Images
By Karen Pallarito
WEDNESDAY, July 27, 2011 (Health.com) — Many radiologists rely on specialized computer software to pinpoint suspicious areas in routine mammograms. But in a large new study, the technology failed to improve breast cancer detection and also increased a woman's risk of being told she had an abnormal mammogram when she was, in fact, cancer free.
The study analyzed 1.6 million mammograms taken at 90 radiology facilities in seven states between 1998 and 2006. The findings, which appear online in the Journal of the National Cancer Institute, extend and confirm the results of a controversial 2007 study from the same research team that cast doubt on the value of the technology, known as computer-aided detection (CAD).
"Women should probably understand that CAD is probably being used to interpret their mammogram and that it's probably not helping detect breast cancer earlier," says Joshua J. Fenton, MD, the lead author of both studies and an assistant professor of family and community medicine at the University of California at Davis School of Medicine, in Sacramento.
Routine annual mammograms are widely recommended for women 40 and older. The breast X-rays can detect cancer at an early stage, when it's most treatable, but they aren't perfect; they miss up to 20 percent of breast cancers, according to the National Cancer Institute.
Having two radiologists interpret a mammogram has been shown to improve the detection rate. In recent years, studies have found CAD software—which scans mammogram images and highlights areas that may require a closer look—to be just as effective in detecting cancers as a second pair of eyes.
Vijay M. Rao, MD, chair of the radiology department at Jefferson Medical College, in Philadelphia, says that in light of the new evidence, radiologists should use more discretion in interpreting CAD results. "Is it a legitimate pair of eyes? Is it really doing the job that the radiologists want it to do?"
The Food and Drug Administration approved the first CAD software in 1998, after a series of small clinical studies found that CAD could boost breast cancer detection without causing an unacceptable number of false-positives, cases in which doctors mistakenly identify benign abnormalities as cancerous.
CAD is now used in roughly three of every four screening mammograms, according to a 2010 analysis of Medicare data published in the Journal of the American College of Radiology. Medicare pays doctors an additional $ 12 per mammogram for CAD over and above the reimbursement for the mammogram itself, which ranges from about $ 80 (for conventional film-screen mammograms) to $ 130 (for newer digital mammograms).
Next page: Accuracy decreased and false-positives increased
Pages: 1 2